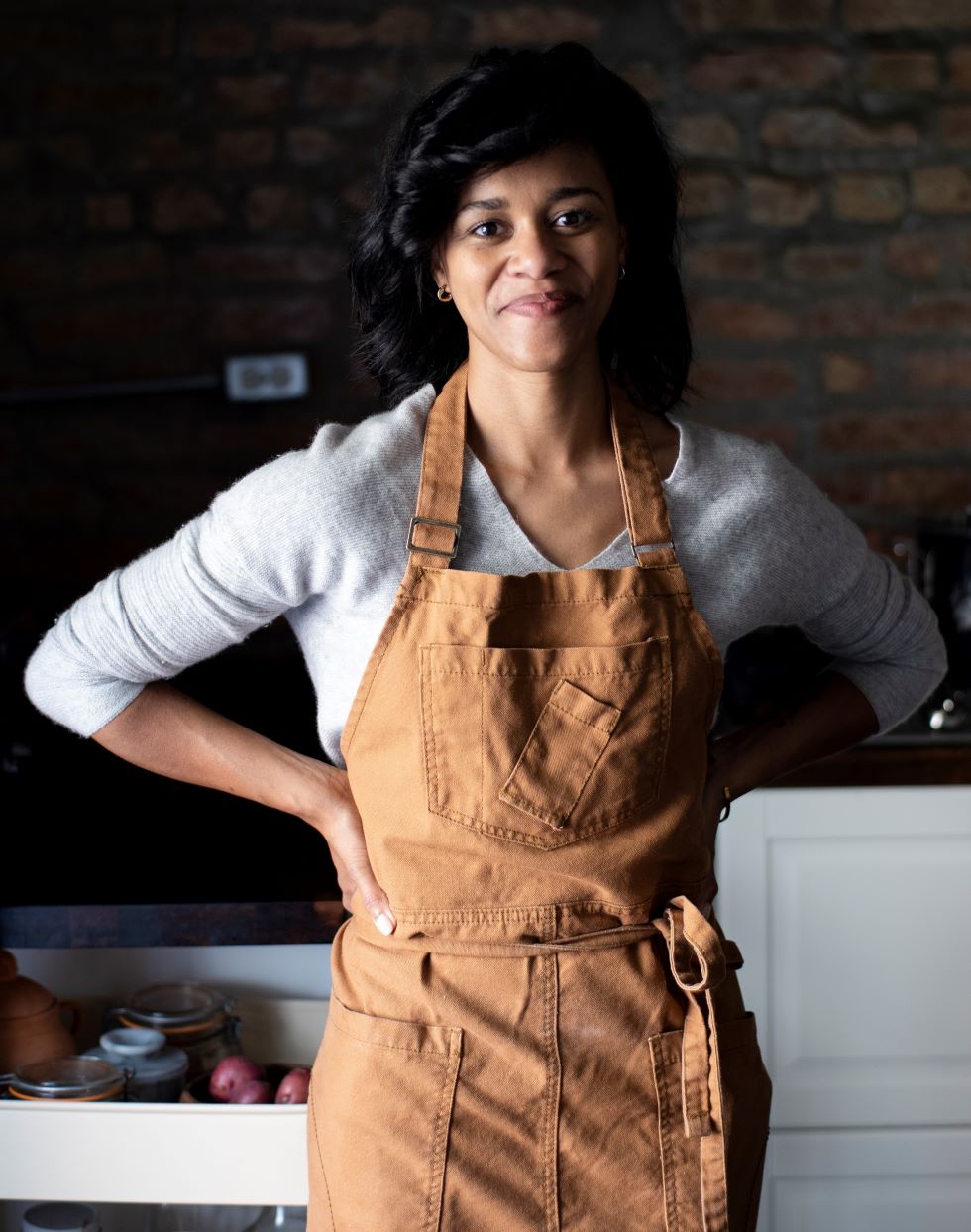 Meet Tastemaker Amanda McLemore
Meet Amanda McLemore, a chef, sustainable food activist, entrepreneur, and friend. Hailing from Chicago via Detriot, meet this mindful tastemaker.
Q. We are such huge fans of Baguette & Butter! Certainly, a brand that is simpatico to our own values. Tell us a little more about the business and what can our readers expect from B&B?
A. Baguette and Butter is the first sustainable food media brand that curates high-end sustainable recipes, shop goods, resources, and online class series for the sustainable city dweller.
Q. Our readers are constantly looking for more ways to be intentional within their homes – from the products they purchase to the way they live. Can you give us your go-to tips on creating a more thoughtful home? What are some of your essentials for living sustainably?
A. I literally spend all of my time curating my home and garden with intention. I have always been one to want everything done all at once, but through starting and running my own business, renovating a home, and tending to a garden I have learned that cultivating patience is key. I think the most important thing to keep in mind is to look within and uncover who you are and how you want to live, then make intentional choices that align with your true self. For example, most of our home was painted dark grey for some time and it never fully felt homey to me. I one day realized the photos I was pinning of homes I loved on Pinterest all had cream-colored walls and a light neutral palette. Once I learned what I truly wanted home to look and feel like for me, I began intentionally sourcing the right paint color that would bring me joy in my home. Now I spend my afternoons on our sofa sipping espresso and admiring the shadows of ivy on our cream color walls.
My second tip is to storytell in your home through your decor. Not everything has to be brand new. Since we are a home of chefs and lovers of nature you will find much of our home is designed with natural materials. I have family heirlooms on display and vases filled with dried coriander from the garden. We also love to use our serveware as decor since it is not always in use. When you step into our home, it tells the story of us and what we care most about.
My sustainable essentials:
A large wicker shopping tote. It looks beautiful both when I wear it at the farmers market and when it's on the shelf in my home. I use it for shopping, picnics, and beach days
Swell water bottle. It is an investment but it is the best and only water bottle I use.
White Flour Sack Towels and White Bar Towels. My go-to for paper towels and oven mitts.
Compost Bin. You cannot have a sustainable kitchen without one.
My Canning Pot. Preserving my own tomatoes and jams helps me cut down on food waste in the garden and curb food packaging waste by using my own jars.
Q. Seasonal cooking with quality ingredients is something we strongly believe in. What is your approach to home cooking?
A. This is so important to me. I gave up the grocery store for a year in 2016 just to see if it was possible to cook locally and seasonally in my home in place of shopping at the big box store. Like I stated before on cultivating a thoughtful home, it's all about learning about your true self. I grow what I know I will eat and every time I run out of an ingredient in my kitchen I ask myself how I can be more intentional about this ingredient. Most of the produce I purchase comes from my garden or local CSA (A community-supported agriculture box). Next time you run out of mayonnaise ask yourself how you can source better quality for your home. Quality doesn't always mean expensive either. I make my mayonnaise as needed in my home using local eggs, lemon juice, salt, and oil, but I source the best olive oil I can find since I can't grow and harvest my own. The more we are responsible for our own food systems the better quality we are able to give ourselves and the more we can support farmers and businesses who craft high-quality and intentionally made ingredients for our kitchens.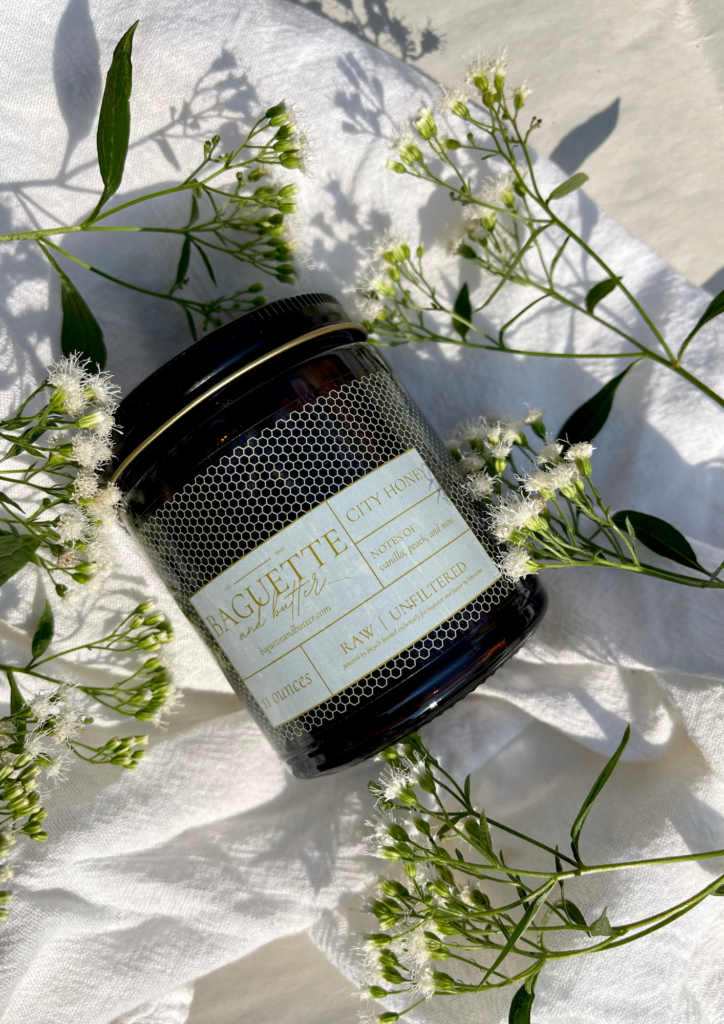 Q. Like us, you launch products that are chosen with extreme thoughtfulness and care, including your latest launch – City Honey. Unfiltered raw honey straight from your very own garden. Bravo! What made you launch honey? Tell us a bit more about the journey.
A. We have had our garden bees for about three years now. I have been dreaming about selling this honey to our community since our beekeeper Jana installed the hive. 2016 is when I tasted my first batch of locally raised honey. As the seasons changed and depending on what flowers the bees pollinate the flavor of the honey tastes different. This is the first harvest we were able to start bottling to launch in The Market at Baguette & Butter, our online shop. I think launching our City Honey is so aligned with our values and desire to cultivate intentional and high-quality ingredients for our City Dwellers homes while allowing them to be involved in healing the planet through cooking with our ingredients. We like to say we curate groceries that do good. For every jar purchased a portion of the proceeds will go towards planting native pollinator flowers to help feed our city pollinators and restore biodiversity in our city plantscape. When we begin spring 2022 planting we hope to get our local Chicago city dwellers involved in person too.
Q. For someone just getting started on mindful living – what would be your one piece of advice?
A. Be patient with yourself and don't give up. Read a lot and try different ways of living mindfully until you find the formula that works best for you.
A little rapid-fire:
Champagne or cocktails? Cocktails, Old-Fashioned to be exact.
Dining in our dining out? These questions are so hard to answer! Dining in, the food is always delicious and the service isn't half bad either.
Burger or taco? Burger.
Small gatherings or large gatherings? Small gatherings.
Laundry or dishes? Laundry.
City or countryside? Countryside garden in the city.