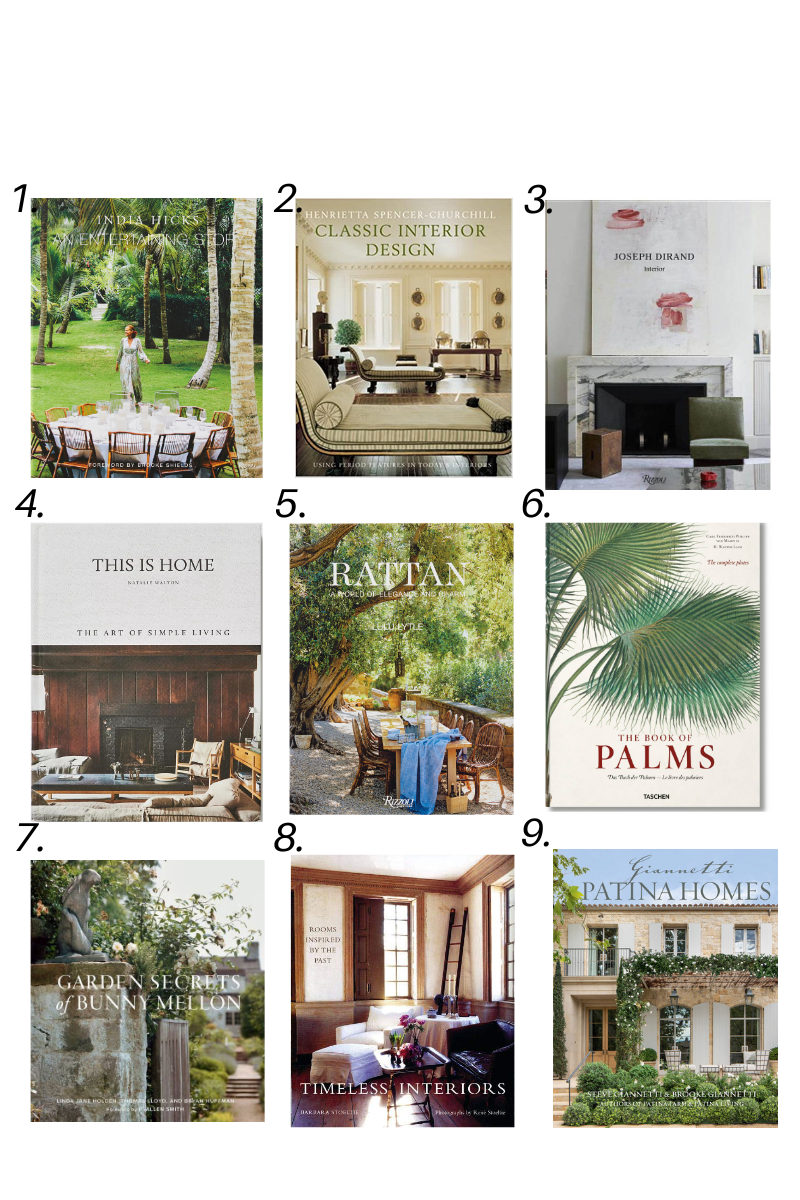 The Coffee Table Book Lover's Gift Guide
I often get asked what my favorite coffee table books are. So, I'm finally putting a list together of some of my interior-inspired favorites. As a collector of these, I often find myself perusing through the pages and getting lost in the infinite inspiration I find between the book boards. Nothing sparks my creativity more.
Here, is the roundup of my favorite coffee table books for the book lover in your life.
No.1
An Entertaining Story– From place settings to table design, this book inspires a whole new spin on entertaining.
No.2
Classic Interior Design: Using Period Features in Today's Home– Learn about distinct design styles. From fireplaces to windows, peruse its pages inquisitively.
No.3
Joseph Dirand: Interior– Showcasing French design that interweaves both minimalism and elegance. Featuring design work from Paris to New York, all the while radiating inspiration with each page turned.
No.4
This is Home: The Art of Simple Living– This book is all about intentional living, which is my life's motto. Find the essence of what makes a space reflect your needs and style. Learn to design a home that is thoughtful and evokes emotion within you.   
No.5
Rattan: A World of Elegance and Charm– A lover of rattan myself, this book takes you through the versatility of this tropical palm and its longevity dating back centuries.
No.6
The Book of Palms– Get lost through the author's expedition as you learn about the unique collection of palms. Greenery at its literal best.
No.7
Garden Secrets of Bunny Mellon– Bunny Mellon is an icon, and this beautifully designed book takes you through her garden secrets. From handwritten notes to her own drawings. This is the perfect addition, to any aspiring gardener.
No.8
Axel Vervoordt: Timeless Interiors– If there's an antique lover in your life, this one is for them. Axel is a world-renowned collector and curator of antiques. This book visually walks you through the variety of interior styles and the author's thoughtful juxtaposition of old meets new.
No.9
Patina Homes– Follow the author's architectural viewpoints as he walks you through his design beliefs. Where modern and classic meet to create his distinct style of beauty.