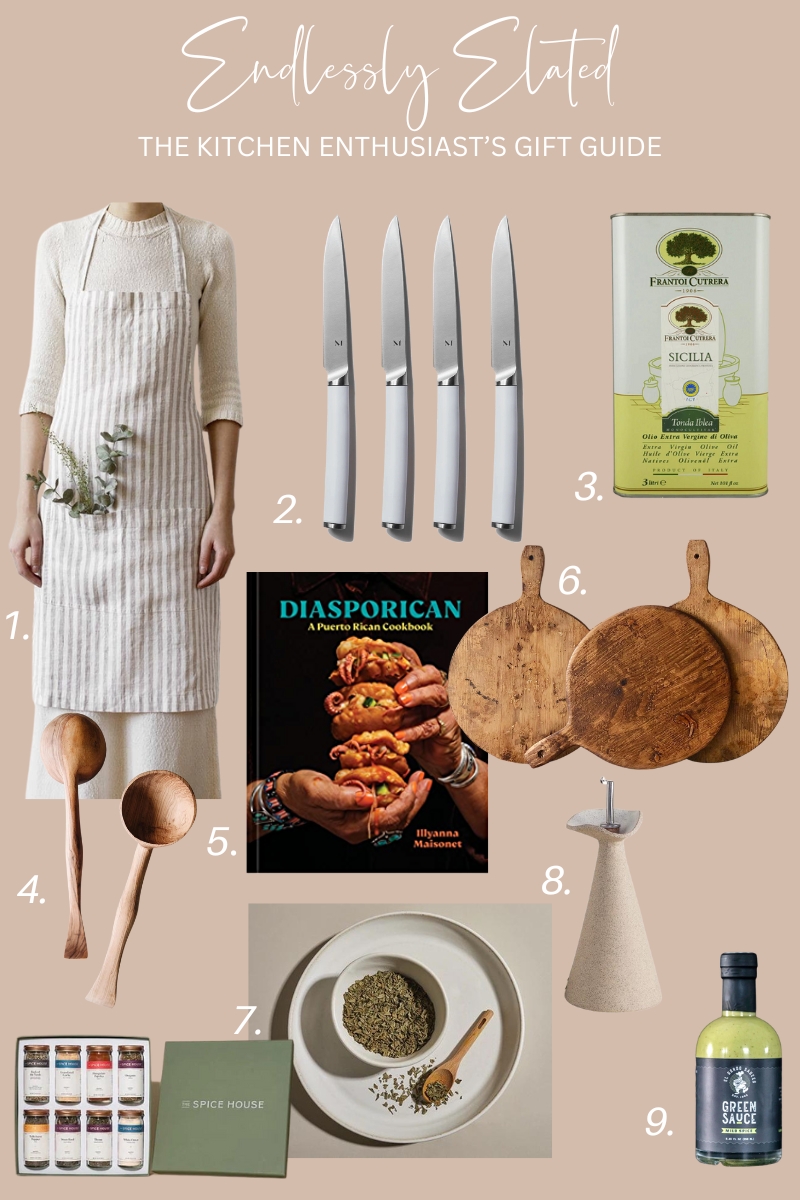 The Kitchen Enthusiast Gift Guide
I'm back with our next holiday (or anytime, really) gift guide. Today, it's all about the kitchen enthusiast. Whether that someone in your life is an avid cook or an aspiring one, this roundup will surely cover all the bases. Here's to intentional gift-giving!
No.1
Linen Tales Natural White Stripes Linen Daily Apron– Made of 100% Linen, this striped apron, not only does its job but is also stylish. A win, win!
No.2
Material The Table Knives– Beautifully designed of stainless steel, these table knives are the knives a kitchen enthusiast didn't know were missing! Featured as Food & Wine's "Best Modern Steak Knives," but also woman co-founded and a personal friend of mine. Truly inspiring!
No.3
Frantoi Cutrera Olive Oil– Imported from Italy, this hands down has to be one of my favorite olive oils. Medium in intensity, with aromas of green herbs and tomato vines. Pairs perfectly with anything from grilled fish to aged cheeses. Delicious!
No.4
Connected Goods Wild Olive Wood Soup Ladle– Handmade by artisans in Kenya, from wild olive wood, this soup ladle is beautifully made and perfectly classic.
No.5
Diasporican: A Puerto Rican Cookbook– Close to my heart and part of my roots, this is a new favorite. Let the kitchen enthusiast in your life immerse themselves in the beautiful culture of Puerto Rican cuisine. Featuring deeply personal recipes from, my beautiful island or as we say, La Isla Del Encanto (the island of enchantment).
No.6
Chase Vintage French Boards– Vintage reclaimed boards, enough said. These are not only practical but can be beautifully displayed in a kitchen.
No.7
The Spice House Kitchen Starter Collection–From farm to table and curated from around the world, these single-origin spices are must-haves in any kitchen. Two words: fresh & flavorful!
No.8
Sin Flora Oil Cruet– Brooklyn-based studio, Sin, beautifully handcrafts this oil cruet. A timeless kitchen essential that will surely upgrade the kitchen counter.
No.9
El Gordo Sauces Green Sauce– This secret family recipe includes three generations of powerful women, whom I also get to call friends. Handcrafted in small batches, this sauce simply put is DELICIOUS! With a mild kick, it can be drizzled, poured, or spread over just about anything.