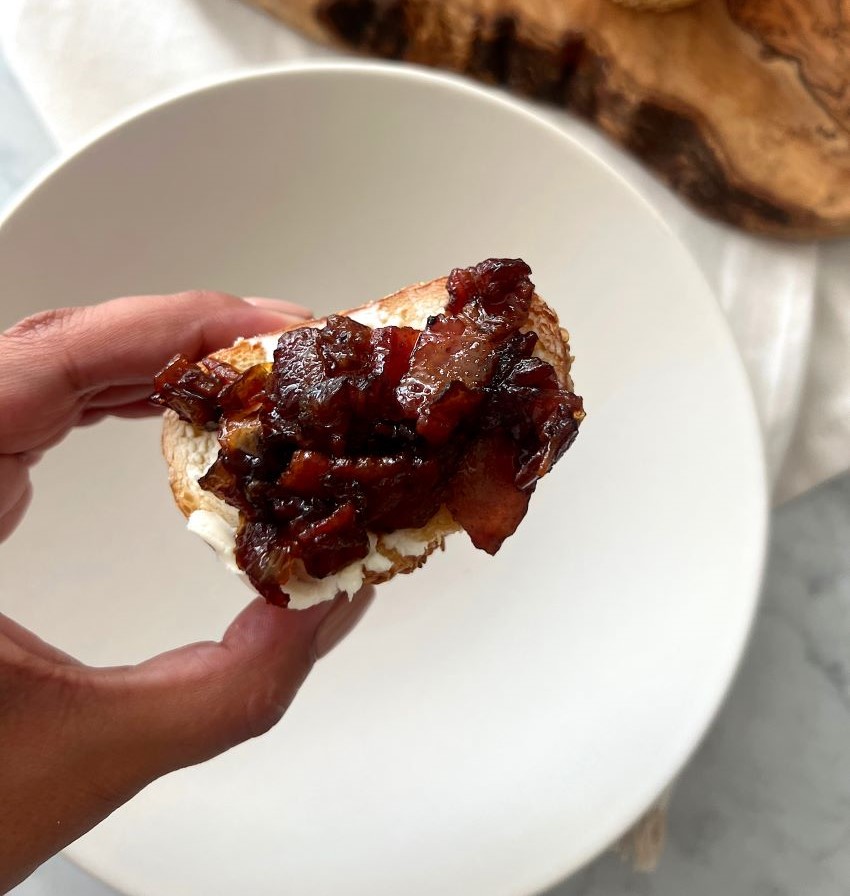 This sweet, caramelized jam, with a hint of maple, is love at first bite.
Ingredients
5-6 slices of thick-cut maple bacon, sliced into ½-inch slices
½ of a sweet onion, diced
¼ cup of brown sugar
¼ cup of room-temperature water
Recipe
Begin by cutting your bacon and onion. Set aside.
Then, add your sliced bacon to a frying pan over medium heat. Stirring frequently, cook for about 10 minutes or until bacon is cooked. Ensure to not overcook your bacon to the point of crispiness. Remove bacon and set aside on paper towels to remove any excess grease.
Next, pour out ¾ of your bacon drippings. Leaving enough to sauté your onions. Over medium heat, sauté onions until cooked and translucent.
Then, lower the heat and add brown sugar. Stir frequently until onions are caramelized. Between 10-15 minutes.
Add back bacon and pour water into the pan. Raise heat back up to medium and continue stirring for about 20 minutes or until the mixture is thick and jam-like.
Lastly, remove from heat and serve warm.
Integrate this dish into your cooking repertoire and make it part of – Your Story of Home.