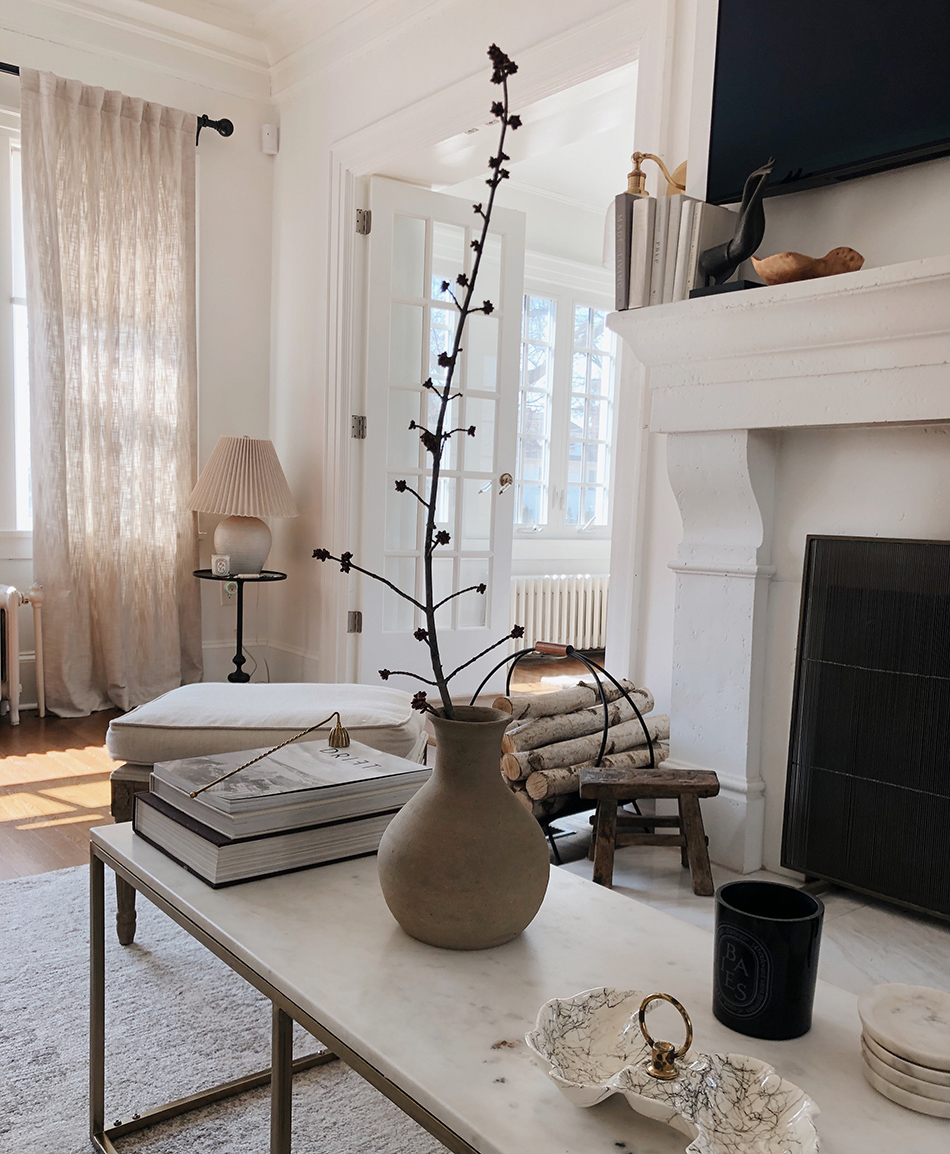 As the saying goes, "A Sunday well-spent brings a week of content."
For me, Sundays are for relaxing, being present, and spending time with family and friends. Whether that's a long bath, a home-cooked meal, or both, I look forward to taking the day a bit slower and resetting for the week to come. This particular Sunday was nothing short of blue, sunny skies and a warm breeze that filled the air.
In sharing my Sunday ritual I hope to inspire you to create a life worth celebrating. To allow you to create Your Story of Home: The Sunday Edition.
I normally start my day by allowing my body to wake up naturally. That means no alarm clock but I'm perpetually a morning person, so that doesn't necessarily mean sleeping in. Something about the morning, the sunlight. It really inspires me to conquer the day.
I head downstairs and pull up the window shades. Have some lemon water and play a bit of classic jazz in the background. I light my favorite scented candle, cuddle on the couch and enjoy the quiet of the morning before my husband rises.
We then make breakfast and because it is Spring, fluffy, lemon ricotta pancakes with strawberry sauce are on the menu. Not only does the recipe call for seasonal ingredients but it makes for a light and fresh breakfast.
Then, unlike my corporate days, I grab my laptop and do some work. Not sure if it's the slow start to my day or the feeling of having no pressure. After all, there are no emails trickling in or meetings to be had, that my creativity truly sores. I find that my best ideas have come from Sunday afternoons as my dog cuddles by my legs while I get lost in my thoughts and aspirations.
As the late afternoon approaches, I take a long bath while listening to an audiobook or some of my favorite podcasts. Currently, I'm listening to "The Wisdom of Sundays" by Oprah Winfrey. This then follows a long walk because once I start immersing myself in what I'm listening to, I usually find it hard to stop.
Next, I head into the kitchen to cook a hearty meal for an intimate dinner with my family. Hours in the kitchen for me sometimes feel like only minutes. I sing along to old ballads (mostly Spanish – here's my playlist) that evoke nostalgic memories from my childhood. On this sunny Sunday, it was honey garlic salmon and roasted potatoes with spring herbs. I paired it with Cakebread Cellar's buttery chardonnay and I must say it was delicious!
Two bottles later, alongside lots of laughter and chatter, my Sunday begins to officially unwind. I put my PJs on, watch some T.V. while laying in bed. Yes, I skipped the chores, the laundry, and the trip to the supermarket. I intentionally find other days/times to do these in order to give myself that "Sunday kind of love."
I hope that after reading this, you make your Sundays a bit more intentional. Create rituals/traditions around everyday celebrations. Allow your Sundays to give you a sense of renewal.