While Thanksgiving might look a bit smaller this year, we hope these recipes & table design tips inspire you to safely gather and bring some holiday cheer. With gratitude at the center of Thanksgiving and having the privilege to share a table with one loved one or a few, it is worth allowing yourself to be present and grateful for this beautiful life moment. 2020 has surely been a whirlwind, but if it's taught us anything is that – even when everything is taken from us, gratitude can still be found within us.
So, while this year may not consist of a big gathering, it doesn't mean we can't celebrate in a big way. Dress up your tables, pop that champagne, and cook up a beautiful gourmet meal.
Over the next few days, we'll be sharing our founder's Thanksgiving recipes starting with this roasted turkey breast. A great option for an intimate gathering, that doesn't create excess waste potentially caused by roasting a whole turkey for only a few people.
Its crispy skin is succulent and full of flavor. Basted in its own pan juices, avoids dryness, and makes this turkey breast juicy and tender. Go ahead, give it a try and add this recipe to this year's Thanksgiving festivities.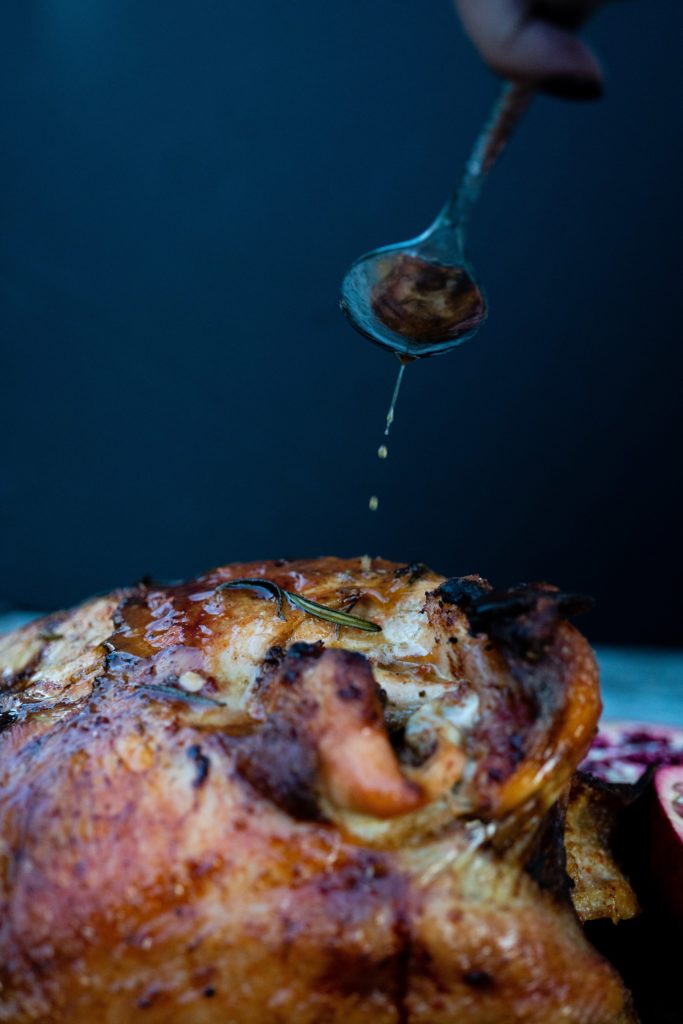 Ingredients
1 5 lb. Turkey Breast
1 medium yellow onion, roughly chopped
2 garlic cloves, roughly chopped
½ of a medium red pepper, roughly chopped
1 handful of cilantro
1 handful of culantro (Different from cilantro. Considered its botanical cousin)
2 tbsp. of water
1 Lemon, cut in half
1 Medium Orange, cut in half
1 head of garlic, cut in half (no need to peel)
1 handful of rosemary sprigs
2 tbsp. of Unsalted Butter
Kosher Salt
Freshly ground black pepper
4 tbsp. Lemon infused olive oil (St. Helena's Lemon Extra Virgin Olive Oil)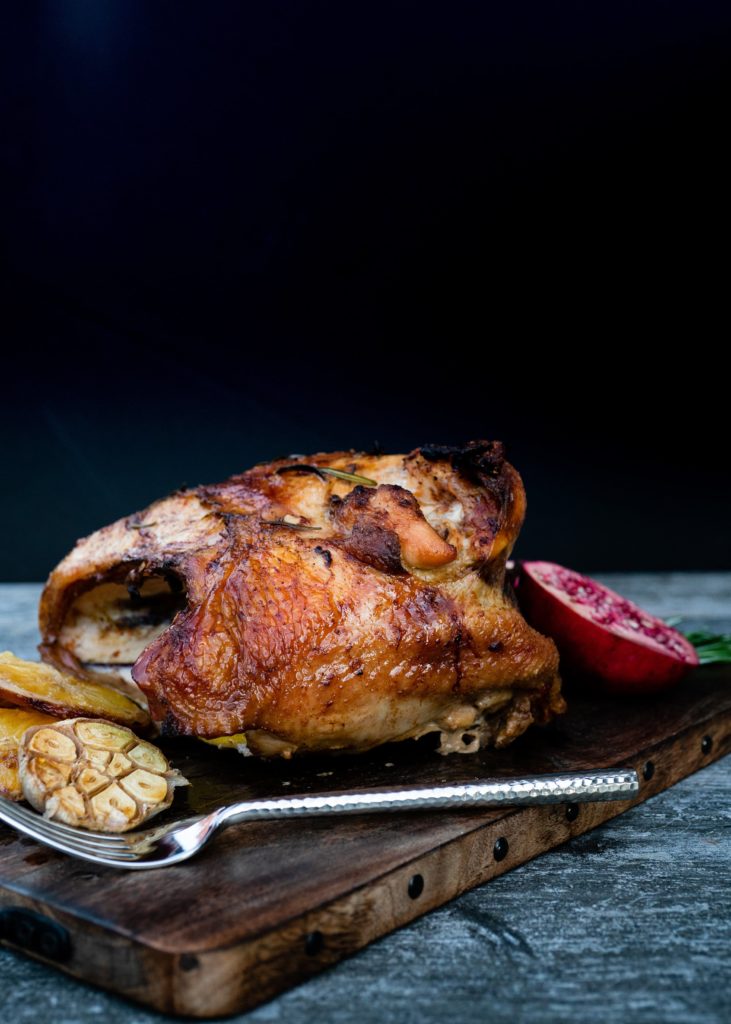 Recipe
Begin by preheating the oven to 350 degrees Fahrenheit.
Next in a food processer add onion, garlic, red pepper, cilantro, culantro, and water. Process until a smooth paste is formed. This is also known as sofrito. A purée used as a building base in most Puerto Rican dishes. Set aside.
Then go ahead, pat your turkey breast dry, add some of your sofrito into the cavity and then stuff with garlic, lemon, orange, and rosemary (if the cavity is too small cut proportions down to equal parts and add remaining pieces into the pan. No need for waste). Once completed, with the point of your knife create small incisions to get under the skin and stuff with remaining purée.
Next, coat roasting or cast-iron pan with butter and place turkey breast skin side up. Season generously with salt and pepper and rub lemon-infused olive oil all around (you can also make your own – here's a simple recipe), ensuring that the turkey breast is fully coated, which will give it that nice caramelized look we are after.
Lastly, roast the turkey breast for about three hours, basting occasionally in its own pan juices, or until you have reached 165 degrees Fahrenheit with a meat thermometer. To do so, insert your thermometer into the thickest part of the meat.
Pro Tip – Do this in more than one area to ensure your turkey is completely roasted.
Remove from oven and allow to rest for about twenty minutes. Slice turkey breast and serve alongside traditional Thanksgiving sides, like Potatoes Au Gratin, coming in tomorrow's post.
Integrate this dish for Thanksgiving and make it part of – Your Story of Home.
Photography by Alcides Aguasvivas {Instagram @alcides.nyc}