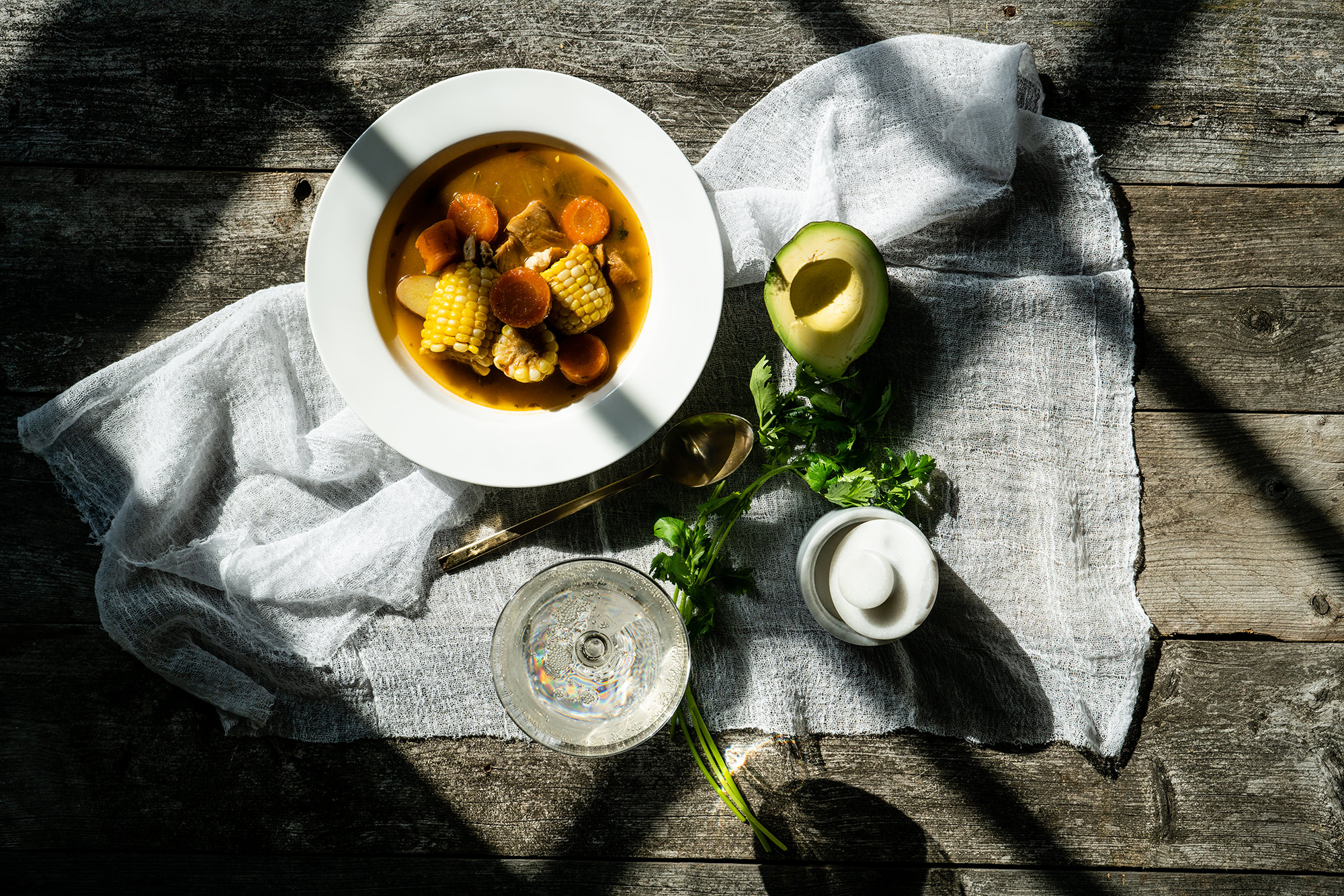 Founder's Note:
There are some recipes that give you that feeling of nostalgia. They bring back fond, intimate memories. They offer a kind of comfort that makes you mindful of a time, a place, or a singular moment. Dishes that remind you of family, of home.
This is mine.
In the countryside of Puerto Rico where my family resides and the weather never subsides to less than what feels like 90 degrees F., my grandmother, always enthusiastic about cooking, can be found conjuring up her Sopa de Pollo, her chicken soup.
With sweat on her brow, fresh vegetables from her garden, and the aromas that eventually envelop the room, this moment harmonizes tradition, history, and culture. A moment where they all come together to tell a story. The story of my roots.
As I take the first heaping spoonful, on a table surrounded by my family, I too begin to sweat. I vividly feel the warm liquid making its way down quickly met with a feeling of pure comfort. Its rich flavors burst and its simplicity serves as a reminder of our surroundings. A dish that makes me feel like I've arrived home. One that feeds my soul and deepens my connection with my family.
Here's to home-cooked meals. Dishes that make you grateful. Ones that gather those you love. So go ahead, cook this nostalgic dish, and bask in a moment of pure contentment.
With Love,
Kathleen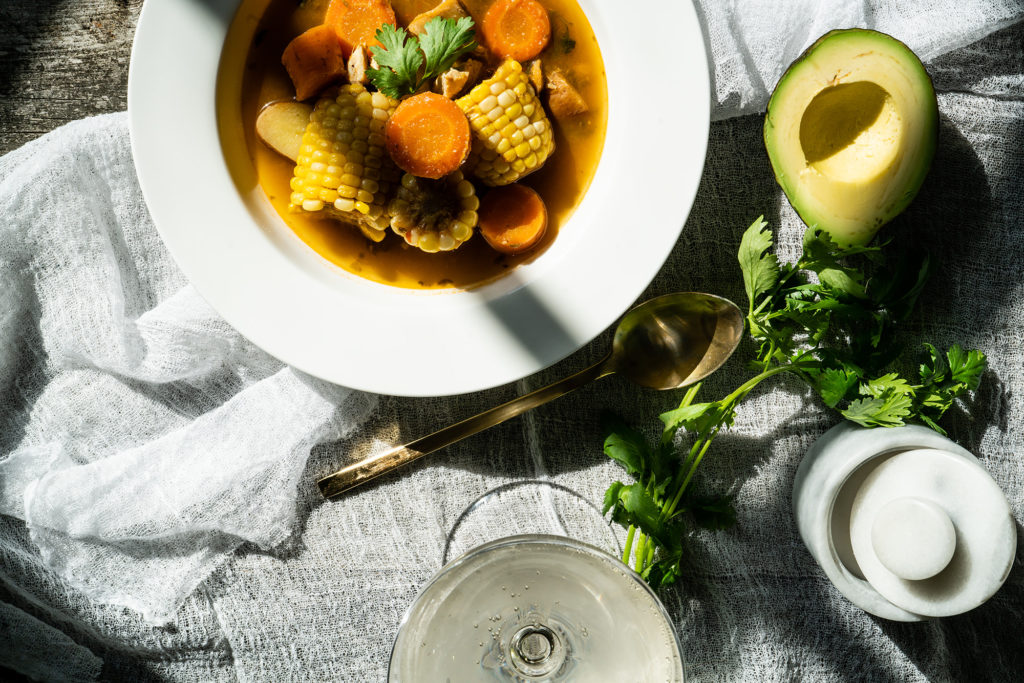 Shop "A Collection of Seasonal Recipes" Digital Cookbook

The cookbook boasts 20+ recipes inspired by seasonal ingredients including their flavor profiles, two comprehensive checklists for cooking and entertaining, four handpicked playlists curated for every season, and a thoughtfully curated shop catering to all your cooking and entertaining needs. Your go-to all-in-one cookbook, from delicious cooking to seamless entertaining.
Ingredients
1 ½ pounds of skinless chicken breasts, cubed
¼ cup sofrito (yellow onion, bell pepper, green pepper, garlic, cilantro, and culantro – a cousin of cilantro. If you can't find it, you can omit it. Plus a small amount of water. See ingredient measurements below).
2 tbsp. extra-virgin olive oil
2 tbsp. of adobo seasoning
2 celery stalks, diced
2 medium carrots, diced
2 medium corn husks, quartered
2 tbsp. of tomato sauce
32 oz. of chicken stock
3 small dry bay leaves
3 sprigs of fresh oregano
1 small handful of cilantro
5 small potatoes, diced
5 oz. of fideo noodles, halved (Angel Hair pasta works as well)
1 lime, juiced (optional for serving)
1 avocado (optional for serving)
Recipe
In a food processor, rough chop and blend together ½ onion, ½ bell pepper,½ green pepper, 4 cloves of garlic, a handful of fresh cilantro & culantro, and a ⅓ cup of water until it forms a smooth paste. This is known as sofrito. A purée used as a building base in most Puerto Rican dishes. Set aside.
Next, heat olive oil in a stockpot (or caldero) over medium heat. While waiting for the oil to come to temperature pat chicken dry and season with adobo – a blend of different spices like paprika, salt, and garlic. Go ahead and add your chicken to the pot and sear until all sides are browned. Remove and set aside as well.
In the same pot add the sofrito (about ¼ cup), celery, carrots, corn, and tomato sauce. Stir for about two minutes scrapping all the bits left over from searing. Then go ahead, and add back the chicken, chicken stock, bay leaves, and oregano sprigs. Bring to a boil and cover. Let simmer for about 45 minutes stirring occasionally.
At the 45-minute mark, add potatoes and additional cilantro. Cover and continue simmering for another 20 minutes or until potatoes are tendered. Lastly, add in the pasta and cook until al dente – about another 5-10 minutes. Remove sprigs of oregano, cilantro, and bay leaves. Serve immediately alongside lime and avocado.
Integrate this dish and make it part of – Your Story of Home.
Shop "A Collection of Seasonal Recipes" Digital Cookbook
Photography by Alcides Aguasvivas {Instagram @alcides.nyc}