Spicy Grilled Chipotle Chicken Skewers
Savor the irresistible heat and smoky flavors of our Spicy Grilled Chipotle Chicken Skewers. Tender, succulent chicken marinated in a bold chipotle blend and charred to perfection.
Order "A Collection of Seasonal Recipes" digital cookbook, here!
Ingredients:
1.5 pounds boneless, skinless chicken breasts, cut into bite-sized pieces
¼ cup chipotle peppers in adobo sauce (about two peppers), minced
2 tablespoons olive oil
2 tablespoons lime juice
1 tablespoon honey
2 cloves garlic, minced
1 teaspoon smoked paprika
½ teaspoon cumin
Salt and pepper, to taste
Wooden skewers, soaked in water for 30 minutes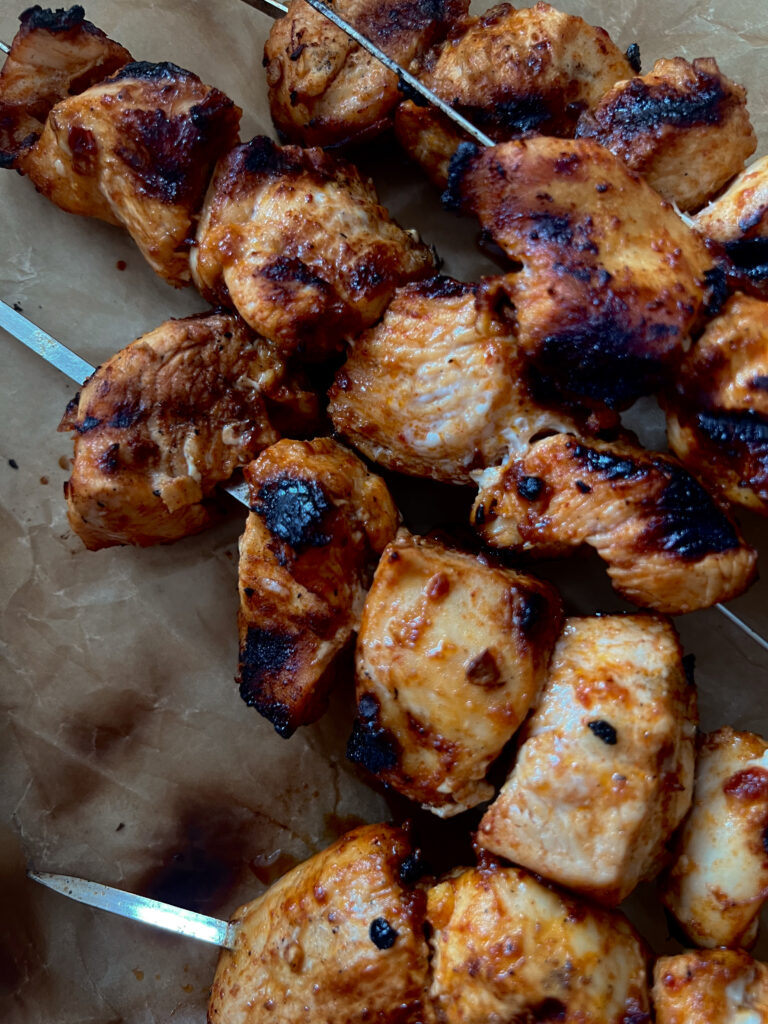 Order "A Collection of Seasonal Recipes" digital cookbook, here!
Recipe:
In a bowl, combine the minced chipotle peppers, olive oil, lime juice, honey, minced garlic, smoked paprika, cumin, salt, and pepper.
Add the chicken pieces to the bowl and toss until well coated with the chipotle marinade. Allow the chicken to marinate for at least 30 minutes, or up to overnight in the refrigerator for maximum flavor.
Preheat your grill to medium-high heat.
Thread the marinated chicken pieces onto the soaked wooden skewers, ensuring they are evenly spaced.
Place the chicken skewers on the preheated grill and cook for about 8-10 minutes, turning occasionally, until the chicken is cooked through and has a slightly charred exterior.
Remove the chicken skewers from the grill and let them rest for a few minutes.
Pro Tip: For an extra kick of heat, reserve some of the chipotle marinade and brush it onto the chicken skewers while grilling. This will enhance the smoky flavor and add a touch of spice.
Enjoy these favorite summer skewers and many other recipes by ordering my digital cookbook, here and make this recipe part of Your Story of Home.