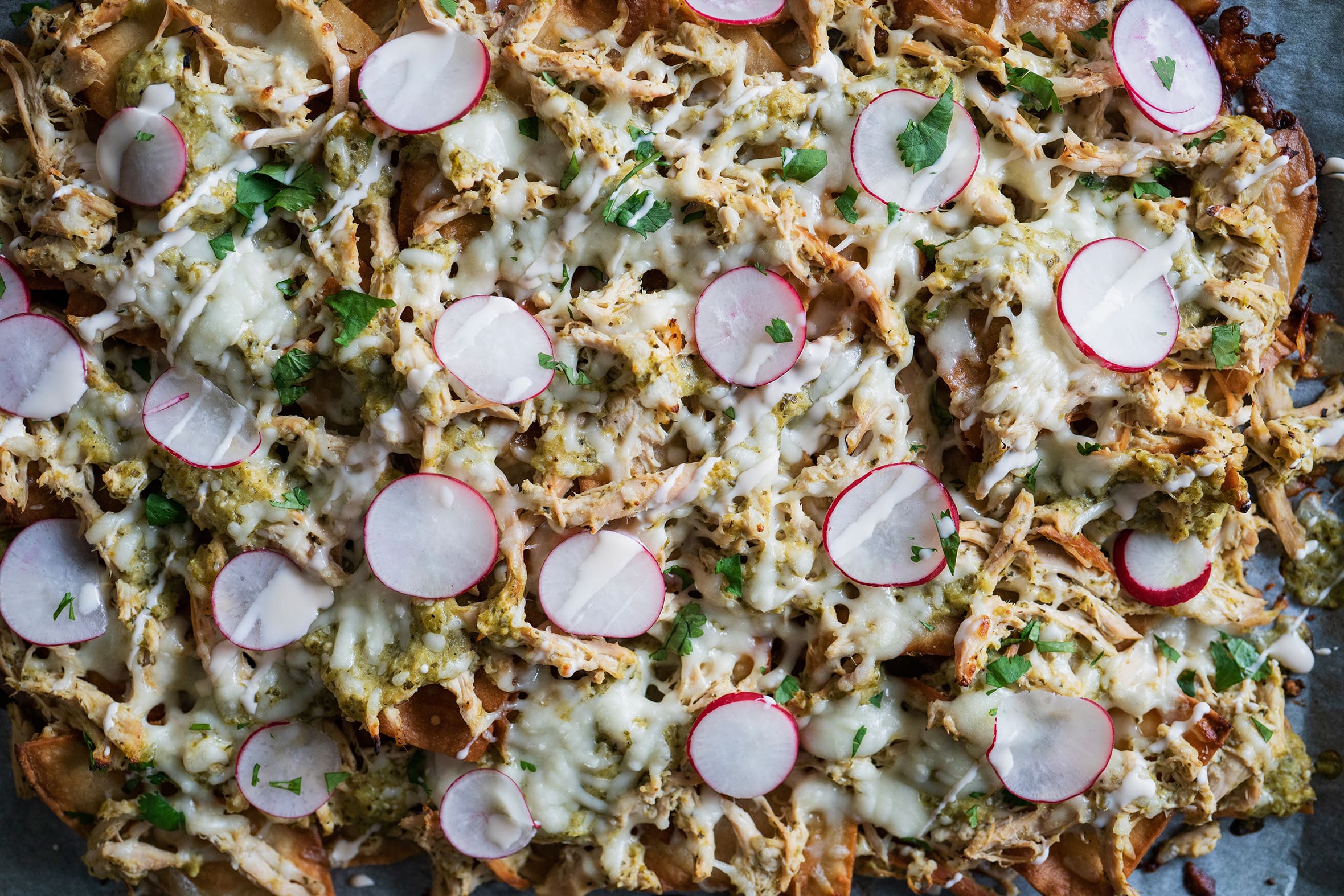 Chicken Suizas Nachos
Super Bowl is a few days away and as your planning for game day food begins, these crunchy, zesty nachos should definitely make their way onto your list. Inspired by the Mexican classic, enchiladas suizas, the creaminess paired with a hint of spice is sure to send your palette into a happy dance. A definite must-try.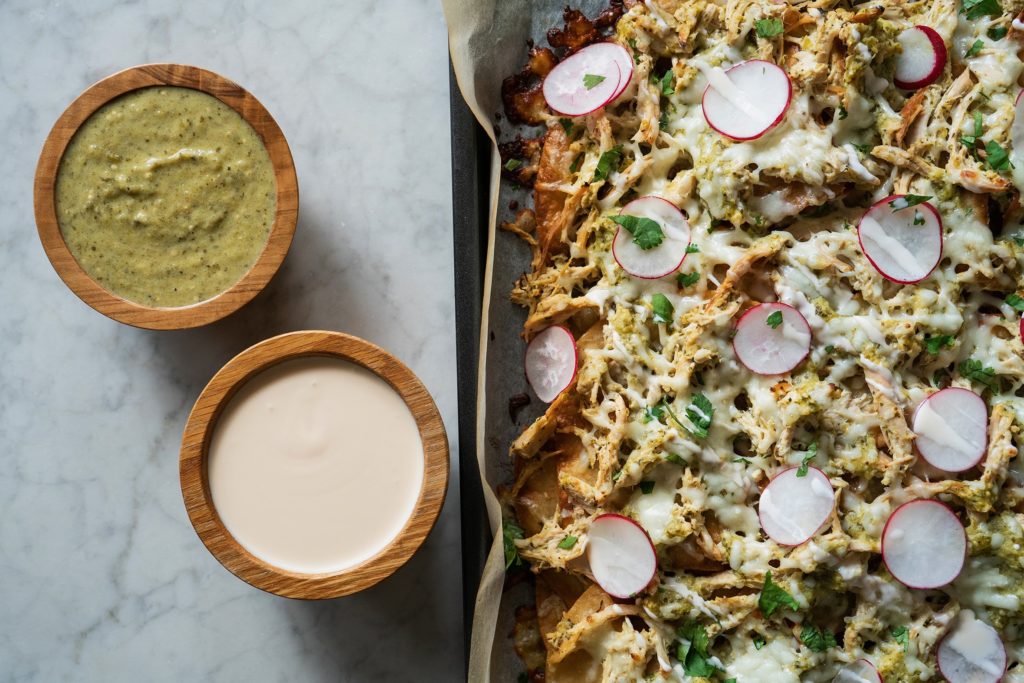 Ingredients
1 ½ pounds of chicken breast, shredded
1 white onion, halved
3 garlic cloves, whole
2 small bay leaves
9 tomatillos, husked and rinsed
2 small serrano peppers (reduce amount for less spice)
1 poblano pepper, charred
1 bunch of cilantro, roughly chopped
½ cup of Mexican crema
1 ½ cups of Oaxaca Cheese
15 corn tortillas, each disc cut into fours/sixes (depending on your preference)
1 cup of vegetable oil
Salt & Pepper to taste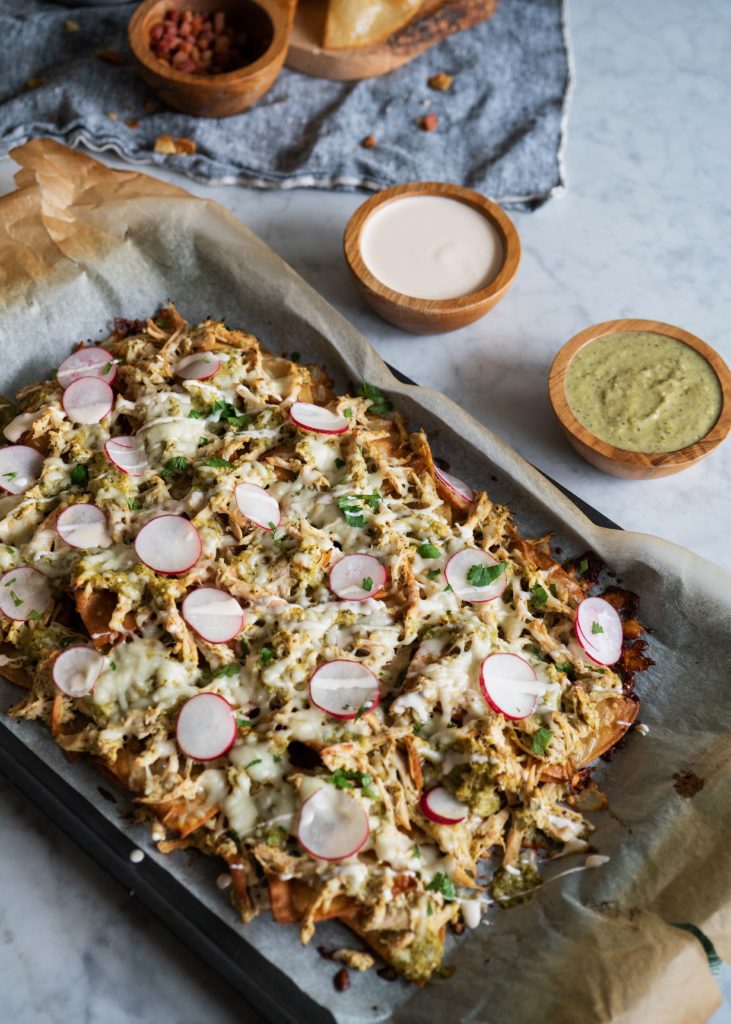 Recipe
Preheat oven to 450 degrees Fahrenheit.
Over medium-high heat bring a pot of lightly salted water to a boil. Next, add chicken breast, half of an onion, one garlic clove, and bay leaves to the pot. Cover and allow ingredients to cook for about fifteen to twenty minutes.
While the chicken is cooking, place the poblano pepper directly over your flame, flipping every few minutes until each side is blackened. Add charred pepper to a Ziploc bag or covered bowl to steam.
Next, drain chicken pot and set aside allowing chicken to cool.
In another medium-sized pot, bring water (no salt) to a boil. Then, add serrano peppers and allow them to cook for about 3-4 minutes. Next, add tomatillos, half of an onion, and two garlic cloves into the pot. Allow all ingredients to cook for another 5-7 minutes. You'll know they are ready when tomatillos turn an opaque color. Drain pot and set aside for cooling.
Next, discard the onion, garlic, and bay leaves from your chicken pot and shred your cooled chicken. Set aside.
Then, using a cheese grater shred the cheese and also set aside.
Remove your poblano pepper from your bowl or bag and using a paper towel peel the skin off and remove its seeds.
At this point, your cooked vegetables should be cooled (if not allow another few minutes). Remove stems from both the serrano peppers and tomatillos. Add all ingredients from your pot (peppers, tomatillos, garlic, onion) plus the poblano pepper and cilantro to a blender until all ingredients are finely chopped and mixed.
Over medium heat add tomatillo mixture and Mexican crema to a saucepan, stirring consistently. Allow it to cook for about 5 minutes. Then, reduce heat to simmer, season with salt (to taste, if needed), and cook for another five minutes, letting the sauce thicken a bit. Remove from burner and set aside.
Next, add vegetable oil into in a cast iron pan (if not a non-stick pan will work) over medium-high heat permitting oil to get hot. While oil is coming to temperature, go ahead and cut the corn tortilla discs into four or six triangular slices. Without overcrowding, the pan, add tortilla slices and lightly fry. About 30 seconds on each side or until lightly browned. Place onto a lined paper towel tray to allow the oil to drain. Pat dry if needed. Repeat until all nachos are made.
Then, in a bowl toss chicken with a bit of tomatillo sauce allowing the chicken to coat.
Lastly, on a baking sheet, lined with parchment paper add one layer of nachos, shredded chicken, Oaxaca cheese, and tomatillo sauce. Continue by adding additional layers until all ingredients are used. Top last layer with remaining chicken, cheese, and sauce.
Put into the oven for about 5-7 minutes or until cheese is completely melted.
Serve warm and garnish with radish, if desired.
Integrate this dish to your Super Bowl festivities (or any gathering) and make it part of – Your Story of Home.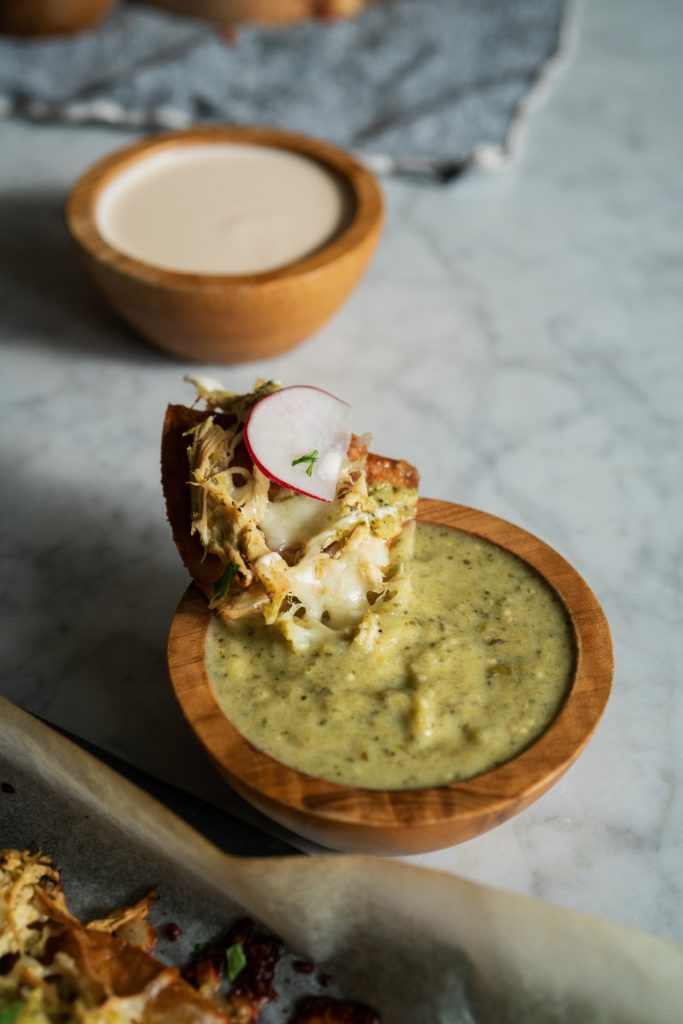 Photography by Alcides Aguasvivas {Instagram @alcides.nyc}