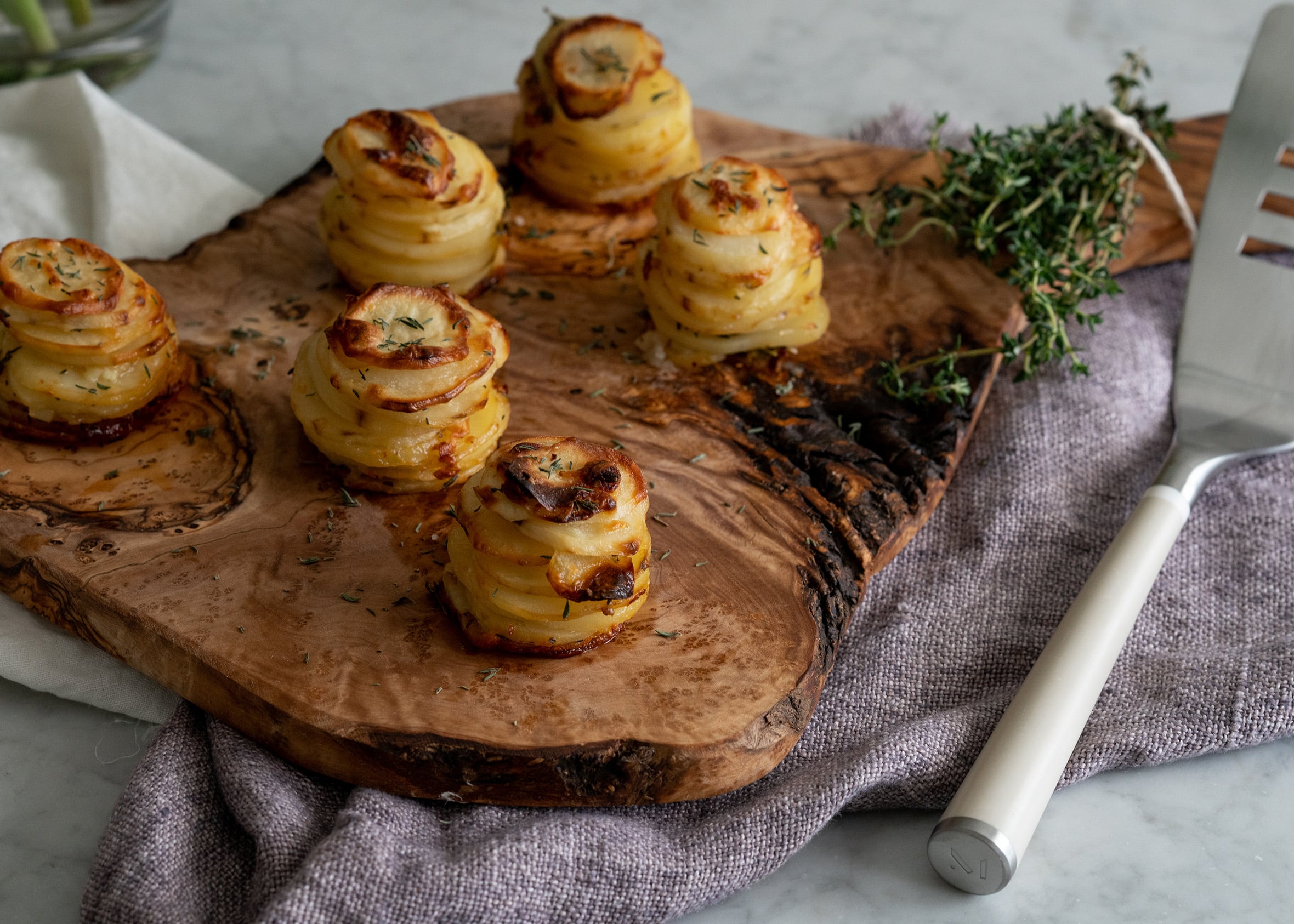 As holiday meal planning continues, these parmesan & thyme potato stacks are the perfect salty, cheese bite to pair with our honey glazed lamb chops. Both simple enough to make but elevate your meal both in flavor profiles as well as visual design.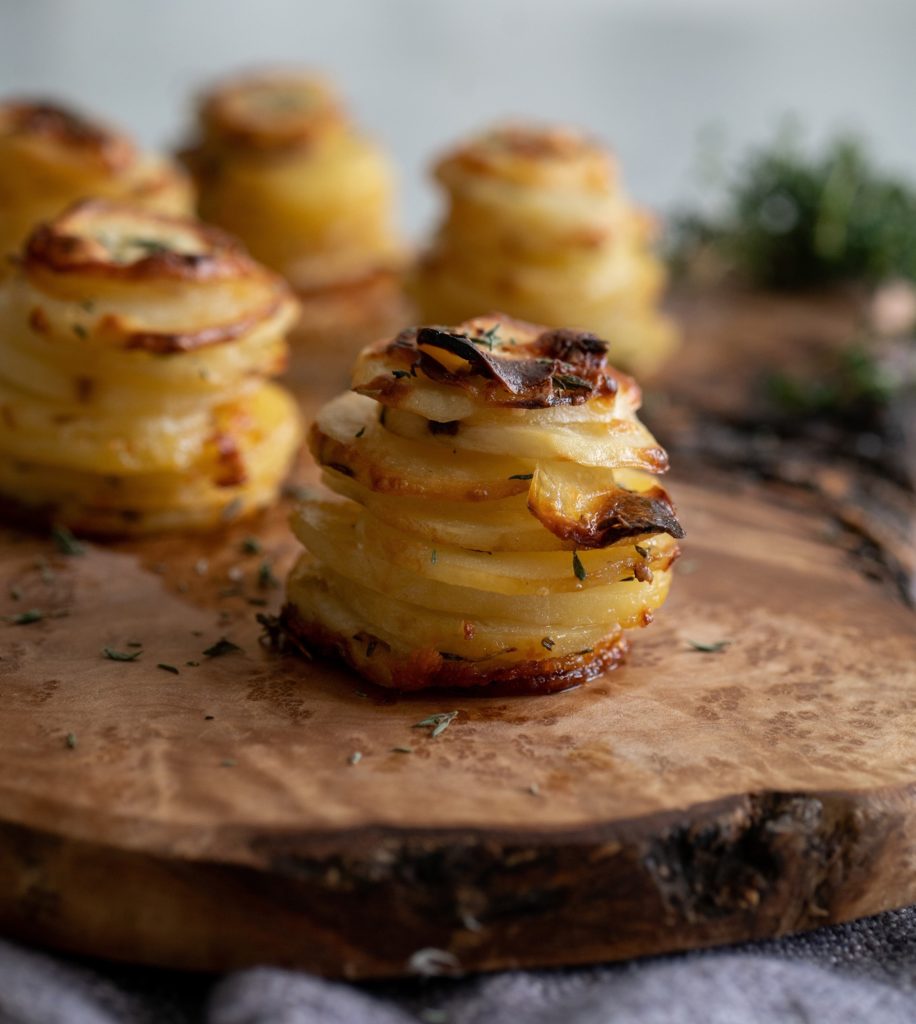 Ingredients
6 Yukon gold potatoes, thinly sliced (about 1/16 of an inch thick)
1 stick of unsalted butter
2 cloves of garlic, minced
½ tbsp. of thyme, finely chopped
¼ cup of parmesan cheese, shredded
Salt
Freshly ground pepper
1 tbsp. of olive oil
Cooking Spray
Parsley, for garnish (optional)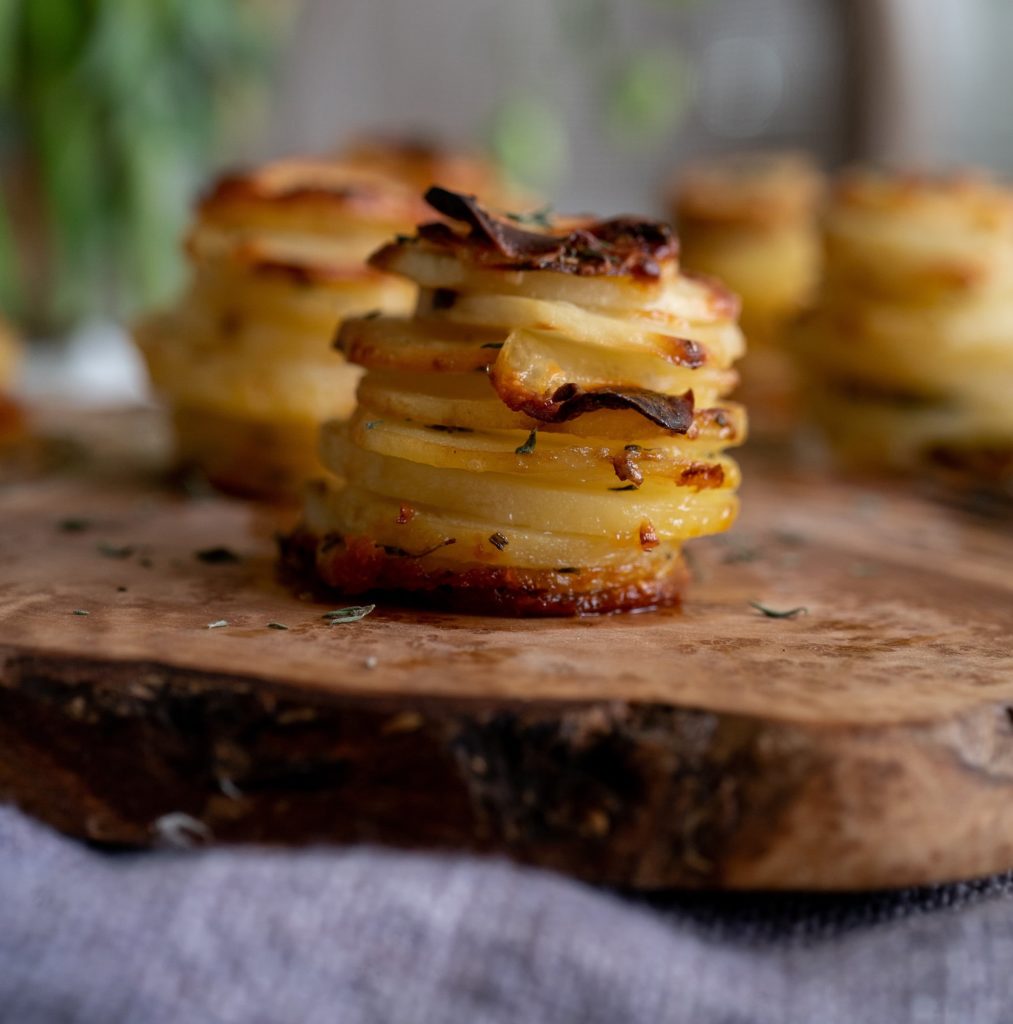 Recipe
Begin by preheating the oven to 400 degrees Fahrenheit.
Next, scrub, clean, and peel the potatoes. Using a mandoline slicer, slice each potato into 1/16 of an inch in thickness.
Then, fill a bowl with water and add potatoes. This will prevent them from browning as you prep the other ingredients.
In a microwave-safe bowl, melt the stick of butter (about 30-40 seconds), then mince the garlic and finely chop the fresh thyme.
Next, add thyme, garlic, and parmesan to the melted butter. Mix until evenly combined.
Remove potatoes from water and pat dry with paper towels. Ensure all potatoes are completely dry as moisture is the enemy of crispiness.
In a large bowl, add potatoes, season with salt and pepper, and pour melted butter mixture and olive oil. Toss until all potatoes are coated.
Using cooking spray, coat muffin tin and stack the potatoes, largest to smallest.
Insert into the middle oven rack and bake for about 50 minutes to an hour. If desired crispiness has not been achieved, remove from muffin tins and transfer potato stacks onto a baking sheet. Broil for another three minutes.
Serve warm and garnish with parsley if desired.
Integrate this dish to your holiday gathering and make it part of – Your Story of Home.
Photography by Alcides Aguasvivas {Instagram @alcides.nyc}