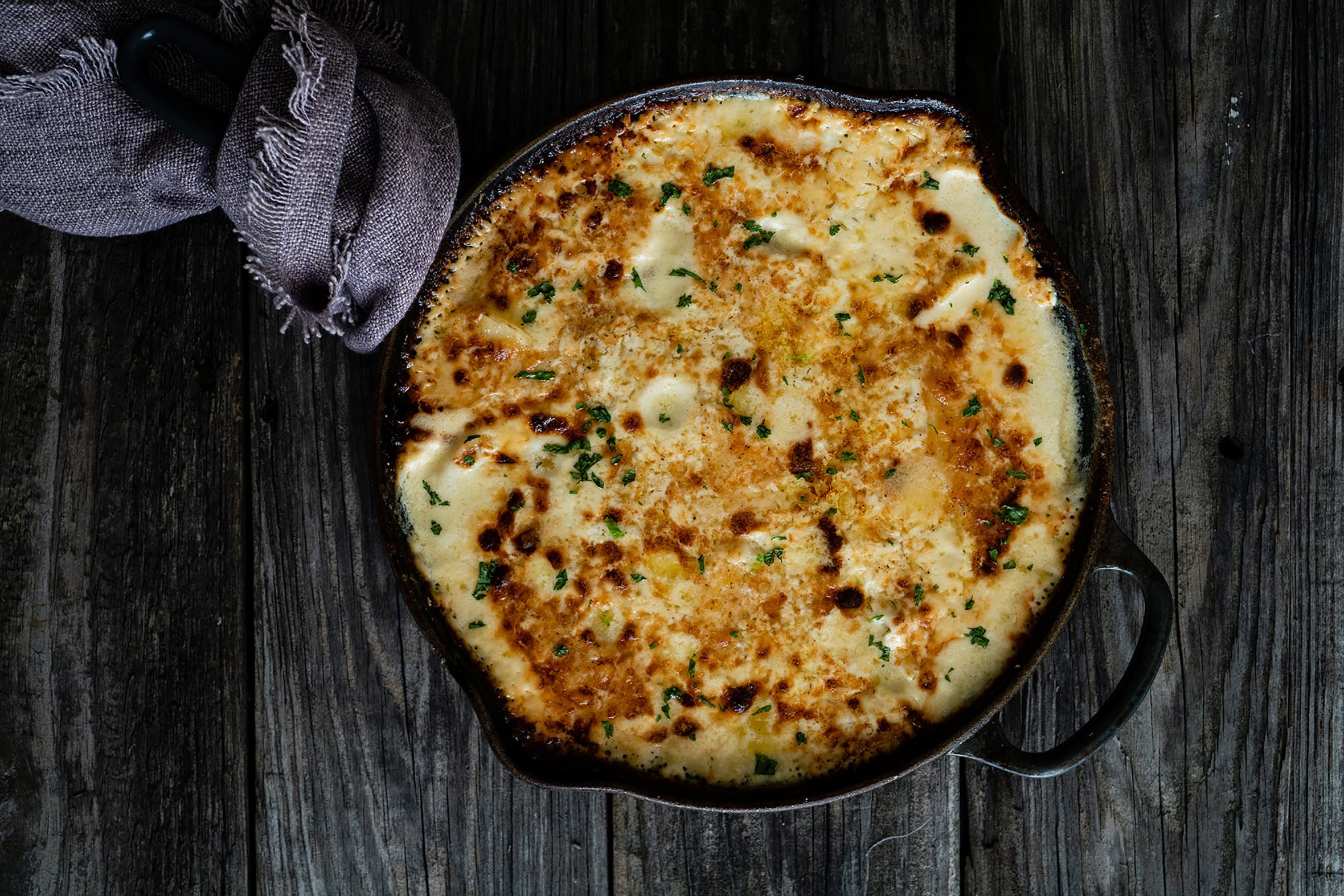 Thanksgiving is officially one week away, so we are continuing with our simple, yet elevated menu. This year it's all about small gatherings, but big celebratory moments. And what better sidekick to your main dish – our turkey breast recipe – than potatoes au gratin.
The decadent flavor of these potatoes paired with the flavorful, but the more mild profile of the turkey is truly the perfect combination. A marriage of flavors that your palette will be thanking you for.
Using the French culinary technique, Gratin, in which a brown crust is formed, this time from creamy, salty, grated gruyere and parmesan cheeses, is simply divine. The pronounced flavors of these potatoes au gratin are sure to have you overindulging.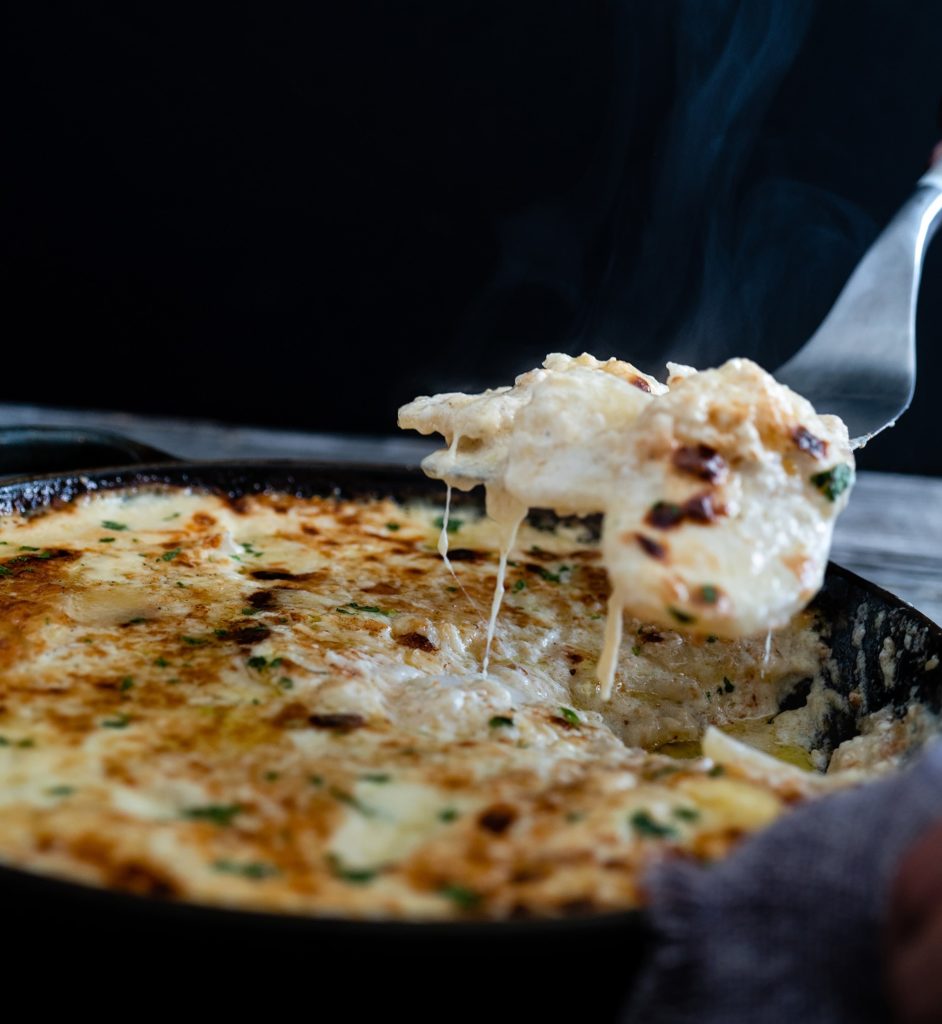 Ingredients
5-6 Russet Potatoes, cleaned, peeled, and cut into ¼-inch thick slices
12 oz. of gruyere cheese, shredded
4 oz. of parmesan cheese, shredded
1 cup of heavy cream
¼ cup of whole milk
2 ½ tablespoons of butter
1 shallot, roughly chopped
2 garlic cloves, roughly chopped
1 small bunch of fresh sage
Pinch of Nutmeg
Kosher Salt
Freshly ground black pepper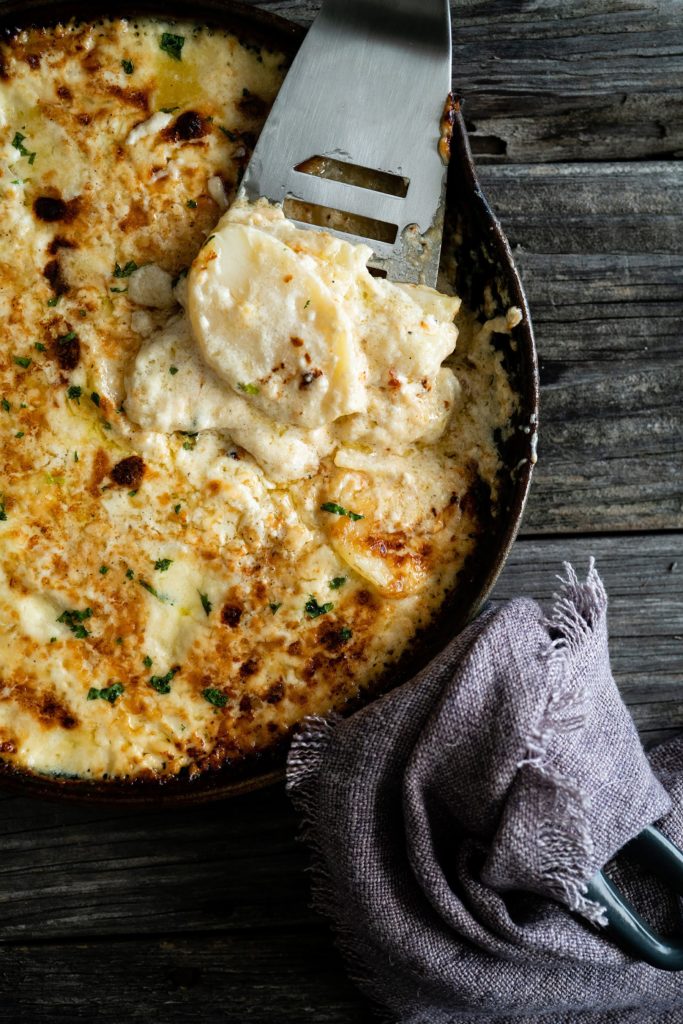 Recipe
Begin by preheating the oven to 400 degrees Fahrenheit.
Next, using a mandoline slicer cut potatoes to about ¼ inch thick. A knife will work as well, but the slicer will not only make it easier but will also ensure that each potato slice is the exact same size. Extremely important to achieve evenly cooked potatoes at every layer.
Once all potatoes are sliced, put them into a bowl of water to stop them from browning.
Using a cheese grater go ahead and shred both kinds of cheese into another bowl creating a tossed mixture.
Then, in a saucepan, melt two tablespoons of butter. Once the butter has melted add shallot and garlic. Cook until translucent and fragrant. Next, add the milk and cream, along with fresh sage, nutmeg, salt, and pepper. Bring to a boil and then lower the temperature to a simmer for about 10 minutes.
While simmering the mixture, remove the potatoes from the water and pat dry. Set aside.
Remove the cream mixture from the heat. Using a mesh strainer, strain the mixture into a bowl.
Then, grease the roasting pan (a 12-inch circular roasting pan was used) with the remaining ½ tbsp. of butter and begin layering in the potatoes. Arrange a single layer of potatoes at the bottom of the pan and lightly season with salt and pepper.
Pro Tip:  Do not overseason each layer as the cheese is salty and the mixture has already been seasoned.
Then top with cream mixture and a layer of cheese (in that order –mixture first, cheese next).
Repeat the process until you have reached the top of the pan and have enough cheese and cream mixture to top the last layer off.
Cover the pan with foil and bake for about 45 minutes. Once the time has elapsed, remove the foil and bake for an additional 25 minutes or until the cheese has bubbled and browned.
Lastly, remove from the oven and allow to rest for about ten minutes. Serve potatoes alongside a tender turkey breast for an intimate Thanksgiving gathering.
Integrate this dish and make it part of – Your Story of Home.
Photography by Alcides Aguasvivas {Instagram @alcides.nyc}